Brussels
The Chocolate Capital of the World
Capital of Belgium & of Europe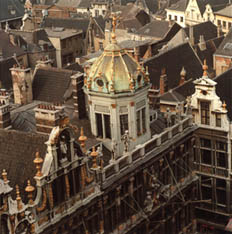 "The most beautiful square in the world" is what Victor Hugo called the Grand-Place (Main Square) of Brussels. It is a city center lined with exuberantly ornate guild houses and a 15th-century Gothic Town Hall. Admire the Square's different facades and architectural styles: Gothic, neo-Gothic, Flemish Renaissance, Italo-Flemish, Louis XIV. If you look closely you will discover a multitude of details adding to the character and beauty of the scene.
We are reminded of the wealthy past of Brussels by cobble stones, gilded facades, Gothic windows, and medieval banners. This square was the scene of many events, markets, insurrections, royal celebrations, executions of scoundrels, and exaltations of popular heroes.
Around the Grand-Place are a number of museums and architectural gems. The Museums of Ancient and Modern Art both house exceptional collections of masterworks. An extraordinary Art Nouveau building is home to the Belgian Center of the Comic Strip. Striking examples of Art Nouveau are found in houses all over the city. The crowning achievement of this style is the Horta Museum.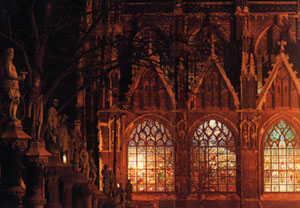 Of the historic buildings, the Palais de Justice (Law Courts) is dominating on a high plateau. Majestic St. Michael's Cathedral is worth seeing, as are the Royal Palace and the Palace of Laeken, the residence of the King and Queen.
Nearby, you'll come across memorable shopping and dining in the Sacred Isle, a maze of little marketplace streets. Look for the city's famous little statue of Manneken Pis.
If antiques interest you, nothing in Europe is quite like the Sablon. Every shop window is a miniature museum, and an Antiques Market and Book Market are held on weekends.
The center piece of the 1958 World's Fair is the Atomium. Close by, famous sights of 15 European countries are reproduced in miniature in Mini Europe.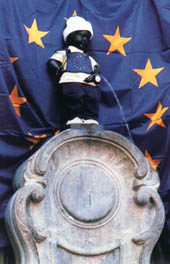 Gastronomes rate the capital as one of the two best cities in the world for food and dining out. You will find a wealth of restaurants in all price categories where you will be served delectable meals. Brussels' dining heart is the Rue des Bouchers (Butchers' Street), near the Grand Place. Here you'll find lobster, crab, mussels, and fish awaiting consumption in one terrace restaurant after another. And yes, Brussels is the chocolate capital of the world.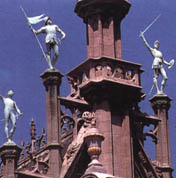 There is no shortage of entertainment events in Brussels, and in keeping with the city's cosmopolitan outlook, these are widely varied. They range from the annual Queen Elizabeth Music Competition, which draws aspiring classical musicians from all over the world, to the annual Jazz Festival in Brussels, which attracts legendary jazz stars to the city. The Theatre Royal de la Monnaie consistently offers first-class opera and ballet. In the Palais des Beaux Arts, symphony and chamber music concerts are programmed year-round. There are nightclubs and discos to satisfy even the most energetic clubbers.