Chocolatier Galler
Chocolate is a magic word!
Say it out loud, and faces light up...
Is there anyone who does
not have a warm and tasty chocolate
memory somewhere in his life?
-Jean Galler, Purveyor to the Royal Household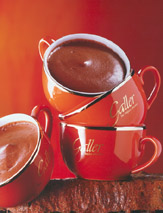 Background
Founded by Jean Galler in 1976, the Galler chocolate-making business is above all a family concern. Supplier to the Belgian royal court, Jean Galler sends his chocolates to every corner of the world.
Jean Galler's company has grown since he created it in 1976, at the age of 21, but its fundamentals have stayed the same:
the passion for chocolate
the love of perfection
the dedication to perfection

Galler's range of products

Pralines
Galler pralines are always made in a craftsman-like way. They contain neither artificial aromas nor colorings. Lightly sweetened, they allow you to appreciate first and foremost the real taste of pistachio, vanilla, or honey. Discover a maximum of taste in the small Galler pralines.

Chocolate bars
The first Galler chocolate bar appeared in 1976: the famous Milk Praliné. Today the selection
comprises 25 varieties.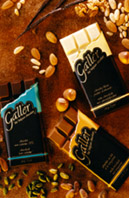 Chocolate tablets
In 1993, Galler was the first to launch onto the Belgian market a chocolate made of 70% cacao-a very high level of cacao. Thanks to two years of research, neither acidity nor bitterness detract from the luscious taste of this chocolate. Chocolate fragrances will linger in your palate minutes after you savor the tablets.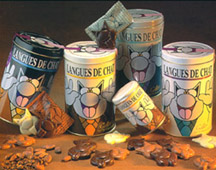 Langues de chat
The langues de chat (cat tongues) were born in 1995. They are the fruit borne of a meeting between two passionate people: Philippe Geluck, of whom the parents said: "He would sell his soul to the
devil for chocolate," and Jean Galler, to whom life without humor would not be worth living. Boxes of langues de chat have become the ultimate Belgian gift. They have made young and old go weak in the knees. One tin contains 18 langues de chat, laid out like an accordion.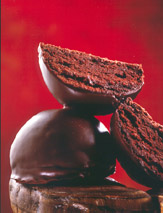 Pastries and Desserts
Misérable: Tender almond biscuit, bittersweet chocolate cream.
Gaufre au praliné: Dessert made with fluffy pastry, cooked between two irons and filled with praliné.
Dôme: Very chocolaty biscuit coated with Noir Extrême chocolate ganache.
Tartelette au chocolat: Sugar-crust pastry garnished with a ganache of Pleine Saveur milk chocolate.
Mousse au chocolat: Light dessert made with cream, chocolate, and beaten egg whites.

Ice cream
Ice cream made with fresh eggs and cream:
La Noir Extrême: a medley of very chocolaty tastes, a symbiosis of smoothness and freshness.
Le Café Liégeois: the freshness of ice cream, the warmth of coffee, and the crunch of nougatine.
Other flavors: Vanilla Bourbon, Manon, Chocolat Liégeois, etc.

The chocolate spreads
The new Galler spreads, 4 essential authentic flavors:
4 smooth and creamy spreads that reinvent the way you eat your slice of bread.
4 original creations, completely natural for a voyage of sensations to the land of taste …

Bouchées
As a snack or to accompany your cup of coffee, the crok'blanc, a bouchée (bite-size chocolate) is made with clear praliné sprinkled with puffed rice, coated with white chocolate.

Caraques
The caraque (an individually wrapped chocolate) is made with Lait Pleine Saveur chocolate. Also try the caraque made with Noir Extrême 70% cacao chocolate.

Easter eggs and chocolate figurines
The small Galler eggs are available around Easter and exist in 13 different flavors. In every Galler store you will find a selection of hollow chocolate figurines for various holidays.

Chocolate cuisine
It is now possible to make an all-chocolate meal.
Discover light, tasty, inventive menus prepared with chocolate: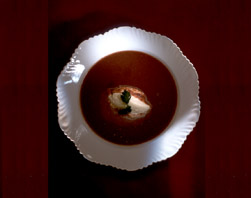 A fish pâté in a cabbage leaf with mustard sauce and white chocolate sauce. My grandmother's liver pâté with candied pears, chocolate, and cinnamon. Pâté of foie gras with Maury wine sauce and Noir Extrême chocolate. Cacao soup.
Kamoun salad
Onion and bacon tarts
Dried fruit salad sprinkled with cacao
Pigeon pastilla with cacao scent
Poultry with soft spices and bitter chocolate
Mashed potatoes
Fruit jelly
100% natural, our fruit jellies are made with fresh fruit, sugar, and fruit pectin.

Dragées
Dragées (sugar-coated almonds) are made with Noir Extrême chocolate (70% cacao) or select almonds from Spain.

The sugar-free chocolate
Two kinds of sugar-free tablets are available. One is made with bittersweet 59% cacao chocolate and is sprinkled with little pieces of nuts. The other is made with milk chocolate. These two chocolates keep all their gastronomical qualities even though the sucrose is replaced by maltose.