Chocolatier Godiva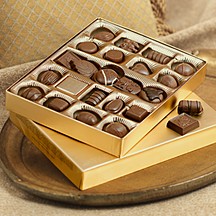 Godiva's history began more than seventy-five years ago in Brussels, Belgium when master chocolatier Joseph Draps founded a chocolate company which was named in honor of the legend of Lady Godiva.
In the year 1040, according to legend, the people of Coventry were suffering with extremely heavy taxes imposed by their lord, Leofric the Dane, in order to finance his battles. Leofric's sympathetic wife, a lovely Saxon named Lady Godiva, was determined to convince him to reduce the taxes. Leofric declared that Lady Godiva was shameless to plead for "the whining serfs." She responded by saying he would discover how honorable the serfs were. A deal was struck: Lady Godiva would ride unclothed through the streets of the city, "clad in naught but my long tresses," and if the population remained inside shuttered buildings and did not peek at her, their tax burden would be lifted. The following morning she made her famous ride and the citizens of Coventry graciously stayed inside, to spare their benefactor any feelings of shame. Leofric kept his word and reduced the grateful people's taxes. Today, in Europe, Lady Godiva is celebrated in countless works of art - tapestry, paintings, sculpture and literature.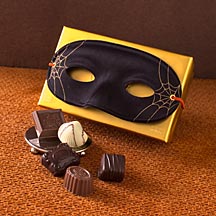 It's not surprising that Godiva Chocolatier, Inc., one of the creators of the world's most elegant, hand-crafted chocolates, originated in Brussels, Belgium. For generations, Belgium has had a tradition of perfectionism, from its Rubens paintings, and gothic architecture, to products made of intricate lace, glittering crystal and its fabulous cuisine.
In keeping with this tradition, the Draps family introduced Belgium to Godiva Chocolate in 1926. Later, Joseph opened the doors to his shop on a cobblestone street on Grande Place. He named his family's chocolate company "Godiva." Draps perfected a unique formula of rich chocolate with unparalleled smoothness. With a remarkable eye for detail, he set forth the standard for Godiva's innovative selection of elegant, European shell-moulded designs and beautiful packaging.
Through the years, these standards have been maintained as assiduously as Draps' recipes have been guarded. As a result of this adherence to Draps heritage, Godiva Chocolates evoke the greatest in confectionery excellence. The same careful attention to quality is apparent in the exquisite European-style gold ballotins and hand-crafted seasonal packaging that have earned Godiva a reputation for design excellence.