Chocolatier Manon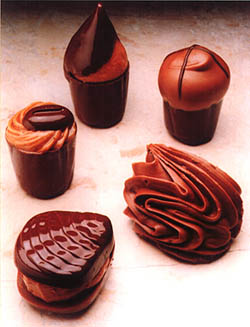 The Chocolatier -- The Magazine For Gourmet Chocolate Lovers -- published:
La Chocolaterie Manon is one of the few Belgian chocolate companies to make and dip their chocolates completely by hand. No fancy enrobing machines are in evidence--there are only two machines in the Manon factory, a conching machine to ensure smooth, soft, homogeneous chocolate and a chiller, essentially a cooler used in the summer to refrigerate coatings and fillings to the correct temperature of 58 degrees.
Some of Manon's chocolates require as many as 10 steps to complete.
The most popular piece, the Bouchon (cork), is a fine example of the craftsmanship and detail for which Manon is known. It consists of a dark chocolate cup filled with crème fraīche and topped with milk chocolate enfolding a Cognac buttercream dotted with a 24-karat gold decoration.
Food & Wine -- Favorite Desserts of Famous Cooks Magazine -- published:
Le Chocolatier Manon is a tour de force of Belgian chocolate making.
The Bouchon and the coffee-flavored praliné-filled bittersweet chocolate shell Escargot noir (black snail) were sublime.
Le Soir -- The Brussels-based Newspaper -- published:
Manon delights chocophiles from the Place Madou to Madison Avenue.