Chocolatier Neuhaus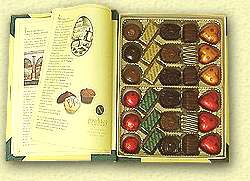 In 1857, Jean Neuhaus left Switzerland and opened a pharmacy shop in the Galerie de la Reine, Brussels. He sold marshmellows, liquorice and pieces of chocolate. Jean soon concentrated more on chocolate making and with the help of his son, Frederic, founded the "Confiserie et Chocolaterie Neuhaus-Perrin" in 1895.
In 1912, Jean Neuhaus,the grandson, created the first bite-sized filled chocolates, which he named "Pralines". Jean and his wife, Louise Agostini recognized the need for protective packaging for the delicate chocolates. When chocolates were purchased they were placed in paper cones which resulted in bruised and scratched chocolates. Together they developed and designed the original box, known as the "ballotin", with the Neuhaus signature cream and green colors and Neuhaus logo. It is this same packaging that you will receive your Neuhaus chocolates in.

In 1923, Jean's son-in-law, created such prestigious and exclusive pralines as the Caprice and Tentation. Today, Neuhaus is continuing the tradition, the quality, and the prestige of its creations, by a production process still largely based on traditional methods and the choice of top-quality ingredients.
Caprice & Tentation are undoubtedly the most famous, but all the other 65 pralines are gourmet gems, each a treat for both the eye and the palate.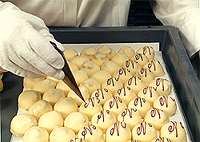 They represent a variety of sumptuous flavours, of almonds, walnuts and hazelnuts, of fine chocolates prepared with butter and fresh cream.
Neuhaus caters to modern tastes. Neuhaus recipes use a high percentage of cocoa and a minimum amount of sugar.
Jean Neuhaus, the creator of the Belgian Praline, was married to the Opera singer, Louise Agostini. In her memory, Neuhaus has named this collection after some of her favourite operas.