The Taste of Belgium … yummmmmmy!

For Food Lovers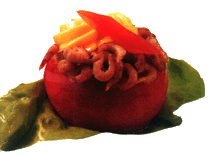 The renown of Belgian cuisine is well established. There is hardly a soul who has not heard of Belgian endives (witloof), Brussels sprouts, fries, mussels, pralines, and Belgian beer.
When it comes to cooking, Belgian chefs can match those in Paris truffle for truffle. Despite the country's small size, Belgium boasts more three-Michelin Star restaurants than France. Belgians take great pride in the food they serve, as is reflected in the wide variety of specialties that make up the national menu.
The food is rich, and the quality and service is consistently good to excellent.
Among the national pride and obsessions
are the following specialties:
Belgian fries (the real fries)
Malines asparagus
Carbonades flamandes (stewed meat in a sauce seasoned with beer)
Waterzooi (chicken or fish served in a rich cream of vegetable soup)
Tomate aux crevettes (tomatoes stuffed with tiny shrimp)
Cheese or shrimp croquettes
Anguilles au vert (eel cooked in a sauce of fresh herbs)
Mussels served in a multitude of different ways
Entrecôte à la Moëlle (steak with marrow)
Cheeses--more than 200 delectable sorts
Delicious pastries and cakes
Belgian waffles
Belgian beer--more than 400 labels
Belgian chocolates and chocolates and chocolates.....
PICTURES COPYRIGHT BELGIAN TOURIST OFFICE, NYC/USA