Astrid Park Plaza Hotel **** Antwerp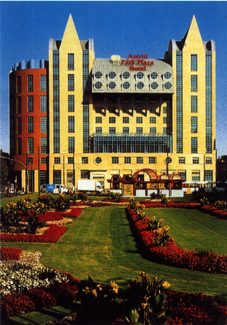 The Astrid Park Plaza is a brand new hotel completed in April of 1997. It is an impressive and attractive building situated immediately across the square from the main railway station, itself a major landmark, and is adjacent to the world famous zoo.
Exterior
Extremely modern facade with some original features. The building is a new new landmark in Antwerp.
Lobby
Large, with long reception desk.
Rooms
Large, spacious, and decorated in blue and green, giving the rooms a nautical fell, emphasized by windows in the shop of portholes. Each room has natural wood furniture with a desk and armchair. The rooms are bright and airy. The bathrooms have marble decor and are very clean and of medium size.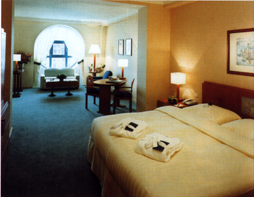 Restaurant
The main restaurant is on the second floor and has a huge window overlooking the gardens.
Location
Centrally located
30km to the Brussels' airport.
1 minute walk to the nearest metro: ASTRID
1km to the nearest station: CENTRAL STATION
1 minute walk to nearest bus stop
Bedrooms
141 single rooms with bath
Features
Hotel facilities Room facilities
24 hour room service Air conditioning
Car parking Television
Small sized lobby Satellite television
Earliest check-in at 12:00 In-house movie
6 lifts Radio
8 floors Direct dial phone
Porterage from 07:00 to 23:00 Mini bar
1 Indoor pool Hairdryer
Solarium Automatic wake-up call
Gymnasium Voltage: 220v
Sauna
Group dining room
Car rental facilities
Disabled facilities
Laundry facilities
Coach drop off
Conference facilities
Other facilities: N/A
Restaurants
Windows of Antwerp serving international cuisine - seating 138