Hotel Le Plaza ***** Brussels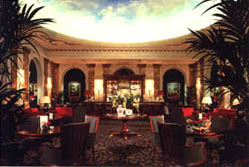 Location
In the heart of Brussels...
In between the "Places Rogier and de Brouckère", near the Grand Place.
A few minutes walking from the main tourist and cultural attractions (museums, theaters, opera...)
Distances
Brussels National Airport - 19Km / 12miles
North Station - 0.5Km
Central station - 2Km / 1.25 miles
Congress building - 2Km/ 1.25 miles
Heysel exposition halls - 6Km / 3.75 miles
Presentation
Reopened in 1996, the Hotel le Plaza is a hotel of tradition where the soul which made its fame at the beginning of the century remains. As soon as the traveller crosses the revolving door into the lobby, he can only but appreciate the calm atmosphere and peacefulness, as well as the beauty of the surroundings, which he has found. Welcomed by a multilingual, friendly and efficient team, he will immediately feel at home.
As far as comfort is concerned, nothing has been left to chance. In addition to the facilities, travellers will certainly appreciate the quality of the rigorously selected furnishings and textiles. All rooms have been equipped with amenities such as private fax, digital safe, and more. The special care given to the smallest details puts the finishing touches to the general harmony of a room where it feels good to stay.
Sir Winston Churchill stayed here regularly. Other high-ranking figures in politics and finance were regular visitors to the Plaza Hotel, but the hotel was particularly popular with the world of the arts and show-business. Charles Aznavour, Maurice Chevalier, Yves Montand, Gary Cooper, Josephine Baker, Brigitte Bardot, all made the Plaza their favourite hotel. In the early seventies.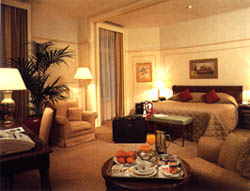 Rooms
All rooms are equiped with fax and individual safe, air conditioning, direct telephone, TV (cable : 40 channels), pay-movie channel, automatic wake up service, electronic message service, minibar, hairdryer, connection for electric shaver, telephone connection for computer.
Facilities
Rooms - 193
Guest elevators - 2
Room service - 24 HRS
Rooms with shower and bath -193
Non smoking - 70
Fitness
Restaurant
Floors - 7
Bar
Services
Safety deposit box
Multilingual staff
Business center
Dry cleaning/laundry/ironing service - same day
Conference assistance
Car/limousine rental at the reception desk
Guest room features
Color/satellite TV/with remote control
Working desk
A/C Individually adjustable
Minibar
Iron/ironing board
Direct dial touchtone/isdn telephone with voicemail
Radio/video/inhouse movies
Full size mirror
In room fax/PC plugs
Bedside alarm clock
In room safe
Bathroom Features
Hairdryer
Bathrobe
Adapter plugs available
Telephone
Bidet