Useful Information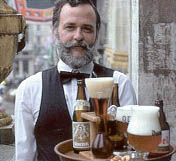 Belgium is a small country (11,730 square miles, the size of Maryland) with a population of slightly less than 10 million. It has been a constitutional monarchy since 1830. There are three official languages (Dutch, French, and German); however, English is widely spoken. The three regions (Flanders, Wallonia, and Brussels) enjoy self-government in many spheres. Belgium has retained its old-world charm in the preservation of its ancient buildings and historical traditions.
Zaventem Airport Information
Airport facilities include: Information/help desks, Money Exchange, Post Office, Duty Free Shops, Car Rental, Cafes/Restaurants, Beauty Shop, Business Center, Religious Services, Train Information & Reservation, Travel Agency, ATM machine, and luggage lockers. All facilities are located in the Arrival Hall.
Taxi
Service from Zaventem to the city center of Brussels is approximately US $33.00. Taxis are available 24 hours. Discount round-trip rate is available.
Train Shuttle
Service from the airport to the North, South, and Central stations, which runs every 20 minutes and takes about 20 minutes. It operates between 5:24 am to 11:46 pm from the airport and 5:40 am to 11:10 pm from the city. The cost is roughly US $3.00. Buy your ticket before getting on the train to avoid a surcharge fee.
Currency
Ther are no restrictions on the transfer of funds into or out of Belgium. The official currency is the Euro.
Climate
Belgium is seldom too hot or too cold. Summer temperatures average 54 F (13 C) to 72 F (21 C) and winter averages from 32 F (0 C) to 43 F (6 C).
Entry Requirements
US and Canadian citizens need a valid passport. A visa is not required for stays of less than 90 days. Other nationalities should check with the Belgian Embassy or nearest Consulate Office for visa requirements.
Language
There are three officially recognized languages: French and Dutch are the main languages; German is spoken by a small segment of the population. English is widely spoken.
The Roads
Roads are very good. Since Dutch is spoken in the northern part of the country and French in the southern part, several towns and villages have two names, one in French and one in Dutch. Here is a list of 3 cities and their different language names.
Belgian city names in:
| | | |
| --- | --- | --- |
| English | French | Dutch |
| Antwerp | Anvers | Antwerpen |
| Bruges | Bruges | Brugge |
| Brussels | Bruxelles | Brussel |
Metric System Distance:
1 yard/3 feet = 1 meter. Capacity: 1 quart = 1 liter. Weight: 1 pound = 1/2 kg.
Distance:
1 mile = 1.6 km.
Temperature Conversion
°C to °F = subtract 2 then multiply by 2 then add 30
°F to °C = subtract 30 then divide by 2 then add 2
Time Zone
Belgium is six hours ahead of Eastern Standard Time and nine hours ahead of Pacific Standard Time.
Electricity
Current is AC 220 volts, 50 cycles.
Postal Service
Hours: 9 am to 12 noon and 2 pm to 5 pm.
Bank Service
Hours: Monday through Friday 9 am to 3 pm (some closing for an hour at lunch time).
Public Holidays
New Year (January 1)
Easter Monday
Labor Day (May 1)
Ascension Day
Whit Monday
National Day (July 21)
Assumption Day (August 15)
All Saints' Day (November 1)
Armistice Day (November 11)
Christmas Day (December 25)
Tips, VAT, Taxes
In Belgium prices are quoted "all inclusive." No additional tipping is necessary in cafes and restaurants.
Telephones
The main international operators (AT&T, Sprint, etc.) have free call-in numbers in Belgium. In most of the Belgian street phone booths, international calling is possible.
TEXT AND PICTURES COPYRIGHT BELGIAN TOURIST OFFICE, NYC/USA